Dale Nichols, a local author, spoke to the Camp on his latest book, "HURRAH for Georgia", the story of the 38th Georgia Volunteer Infantry Regiment.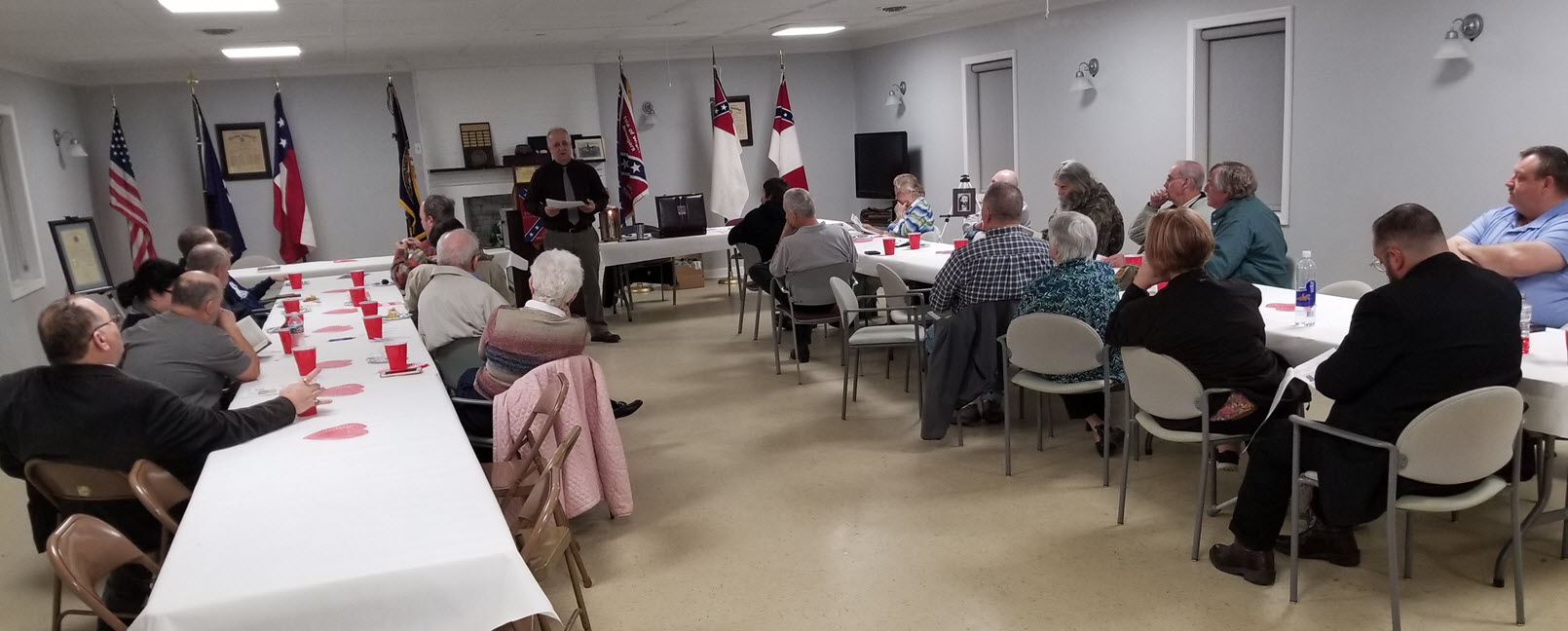 Dale Nichols has many ancestors who served in the War of Aggression including his GGG Grandfather who served in the 38th Georgia Volunteer Infantry.

Commander Ed Whitley spoke to the Camp's membership about the life and military career of Mills E. Britt. He enlisted in the 7th Bn., Co. F, 61st Virginia Infantry in 1861 at Beaver Dam, Isle of Wight.
Without such brave soldiers as Pvt. Britt, the Isle of Wight Avengers, SCV Camp would not exist! Cdr. Whitley asked past Commanders, Keith Morris and Tony Griffin to assist as he presented early pictures of
Mills Britt to REAL GRANDSONS compatriots Frank Hall and Earl Hall. Our Camp is honored to have such fine gentlemen in our Camp carrying on the legacy of their grandfather.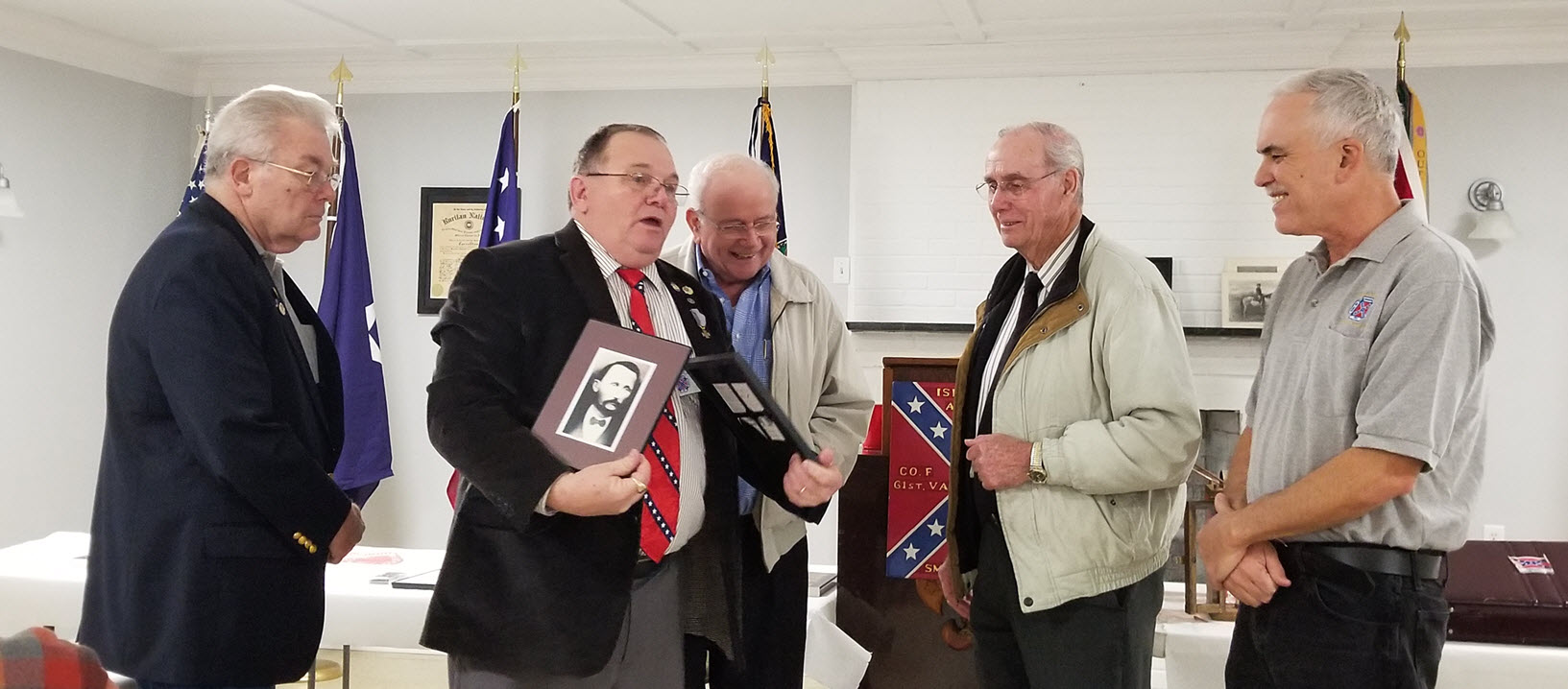 Cdr. Ed Whitley then presented Compatriots Frank & Earl Hall with National SCV Certificates to recognize them as REAL GRANDSONS.

Commander Ed Whitley was so happy and proud to present REAL GRANDSON medals to brothers Frank and Earl Hall!

The Sons of Confederate Veterans is all about honoring our ancestors. The Avengers Camp did exactly that this evening by remembering Private Mills Edward Britt and two of his grandsons!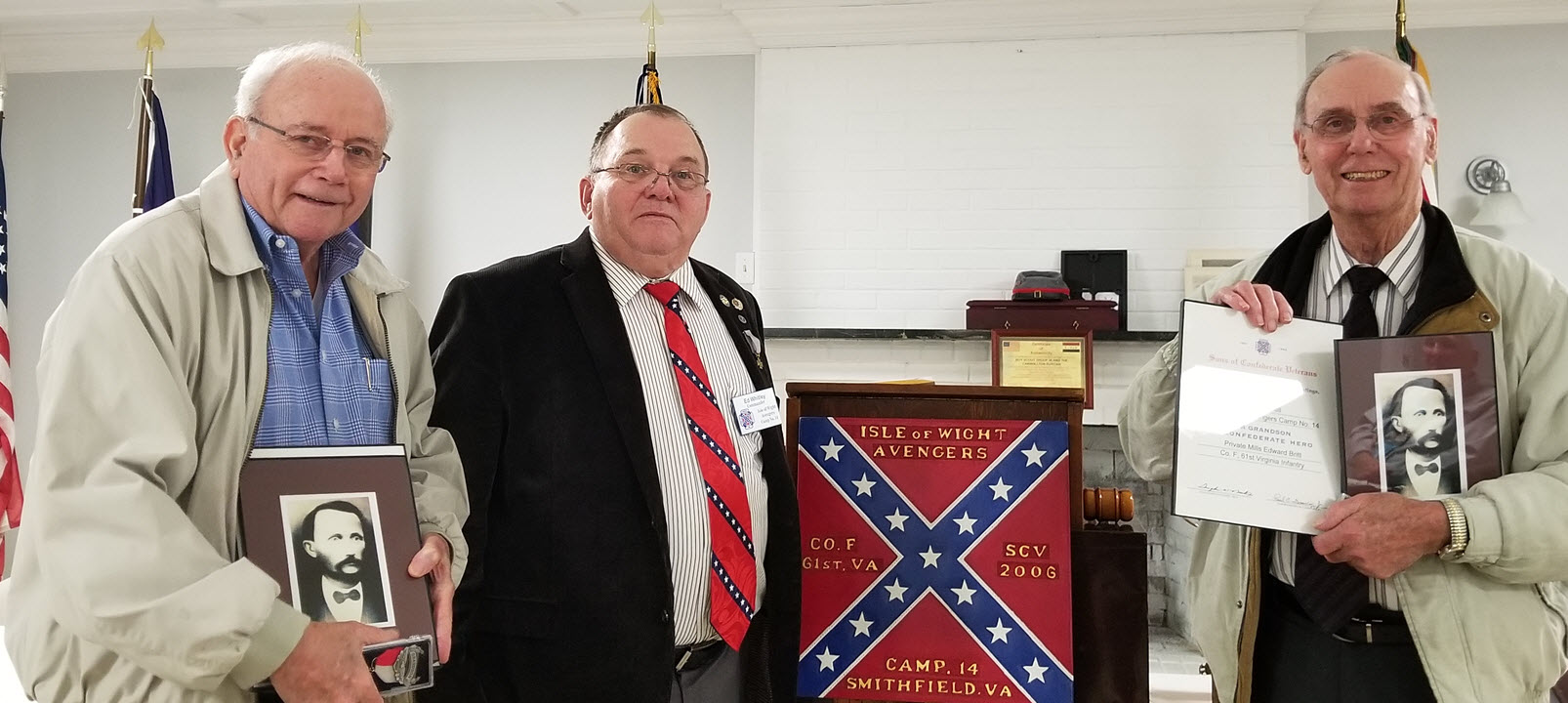 2nd Lt. Cdr. Richard Jenkins and his wife, Connie, were happy to announce their 37th wedding anniversary.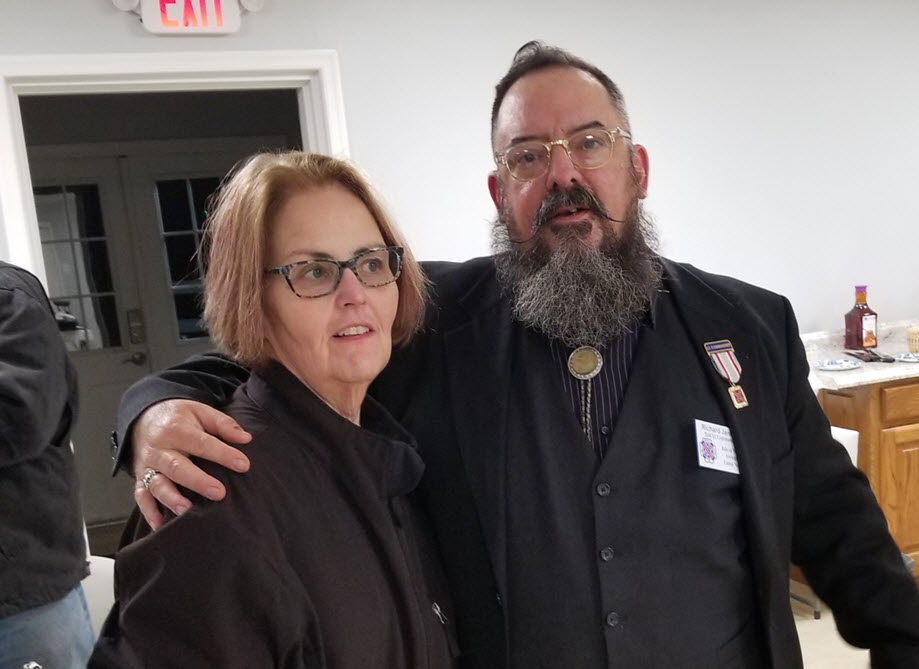 Reed Lundy and Matt Abbott visited the Avengers Camp. Welcome!
January 8, 2019: Ed Whitley's first meeting as Camp Commander.

2nd Lt. Cdr. Tommy Davis helped the Camp start off the New Year with a cake he brought to our monthly buffet.


Jeff Toalson, Past Cdr. of the James City Cavalry Camp #2095, was tonight's speaker. He told us of his journey of the last 15 years while edititing several books.
His latest is I Got Nuthin Strange To Rite consisting of letters to and from Confederate soldiers and their families. Cdr. Ed Whitley is showed greeting Jeff, who was also accompanied
by friends from the James City Camp--incoming Cdr. Jerry Thompson and Past Cdr. Ken Parsons.


Trent Butler was inducted this evening by Cdr. Ed Whitley and Lt. Cdr. Raymond Groves. Congratulations to Trent!