December 10 , 2019: Our Christmas Dinner

This meeting was a festive occasion with lots of members, guests, food & desserts!


Plenty of buffet items to choose from as well as tasty desserts! Compatiot Dwight Doggett brought the country ham
and the turkey, and Myrna Sharon gets the credit for the beautiful decorations and organizing the dinner festivities.


Cdr. Ed Whitley & Past Cdr. Tony Griffin discuss the meeting while Frank Hall and Dwight Doggett exchange pleasantries.


Commander Whitley conducted a professional meeting with lots of notices and news. Of extreme importance was that Bonnie and Tommy Davis gave a
truly magnificent contribution to the Avengers Camp to be used for our Building Fund and General Fund. He stated how much we all appreciate this gift
and went over to thank them personally. Later this month, Mr. and Mrs. Davis will be celebrating their 49th wedding anniversary.

Also during the meeting, Cdr. Whitley displayed our various collection of our plaques, etc., including our Lamp that he just picked up from Tony Griffin.

It was made for the Camp and donated by Tom Mayes. More information can be found at

http://iowavengers.com/lamp/


Lt. Cdr. Raymond Groves was proud and happy to introduce our guest speaker, Mrs. Billie Earnest who spoke to us about "The 56 signers of the Declarations of Independence and the Price they Paid".
The flag in the background was donated to Cdr. Whitley by her husband, Cdr. Frank Earnest, who was not able to attend this Christmas meeting.


It continued to be a very busy night for Commander Ed Whitley as he presented Norfolk Pines to the ladies who contribute so much of their time and efforts to helping our
Camp prosper: Mrs. Myrna Sharon and Mrs.Joan Jones. A 3rd Pine was awarded to guest Jim Parker as a door prize. Bonnie and 2nd Lt. Cdr. Tommy Davis donated
these Pines for our Christmas celebration.


Librarian David Cockes displayed some old Confederate Veteran magazines that Cdr. Whitley purchased at a local store and donated to the Camp. Interesting reading!
Please see David to check out any book, or to look at our many scrapbooks that our Commander has put together.
November 10 , 2019
After opening the meeting, Commander Ed Whitley spoke about the life and service of Pvt. Robert Anderson Eagle from Buckingham County. He was a private in the 42nd VA Infantry.
The Cdr.then lit the Camp's candle in his honor. Pvt. Eagle happens to be his wife's great great grandfather!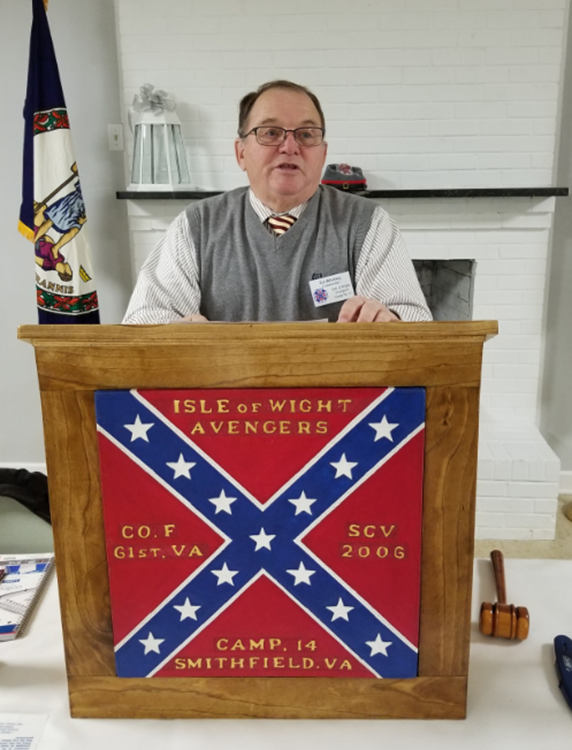 Commander Frank Earnest was our guest speaker. His SCV credits and accolades are too numerous to list. He spoke to us about "Major General Jefferson Davis: The Unsung Hero".
As usual, he had notes, but didn't need them because he is so well versed in Confederate matters.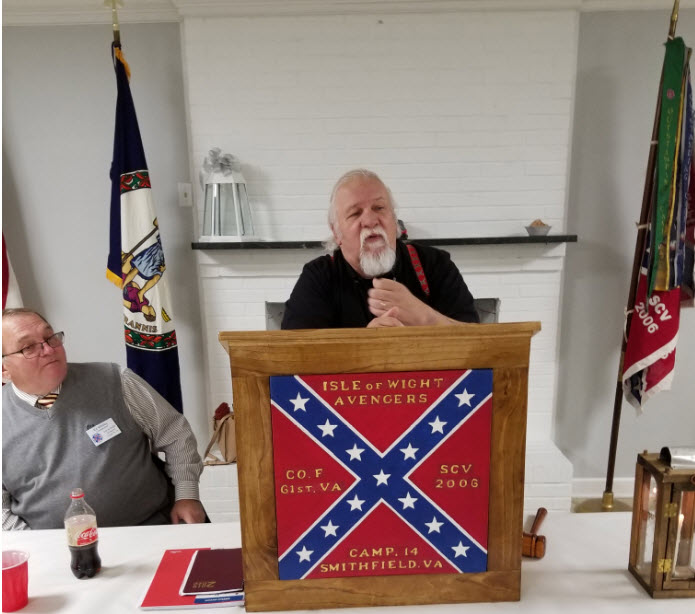 We are alway happy and proud to welcome Frank Earnest's wife, Billie, whose many ancestors include
a soldier in the 61st VA Infantry.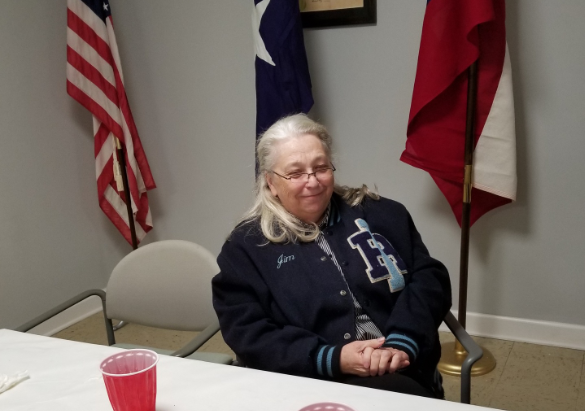 October 8 , 2019

Charter Commander Keith Morris constructed a new podium for the Camp since our last meeting. Our Camp's plaque was presesented by (now deceased) compatriot Tom Mayes, Sr. It was time to present it properly! Besides, we no longer have ready access to the Ruritan's podium that we've been using for years. Keith did an official unveiling of the podium with Cdr. Ed Whitley.

Copied from this web site in Pictures (2008): Also on March 4, 2008, new members Tom B. Mayes (Sr.) and Tom L. Mayes (Jr.) unexpectedly and graciously presented Cdr. Keith Morris and the entire Avengers Camp with a beautiful Camp Plaque complete with a legal "deed of gift". It was hand crafted by the elder Compatriot Mayes, and modeled after our Camp's flag. Lt. Cdr. Joe Epps wasted no time in hanging this exquisite plaque at the front of our podium, and over the Boy Scout emblem. Cdr. Morris has pledged that this Plaque will be displayed at every Avengers meeting, God willing. We are truly thankful for this gift, and indebted to the Mayes family for their support of their new Camp.


Mike D'Ostilio, U.S. Army ret., was the Camp's first guest speaker to make use of the new podium. He spoke to us about the Battle of Fredericksburg: "Burnside's Plan--Lee's Countermoves"
beginning with the movement of Union forces from Warrenton, VA to Fredericksburg. Mike currently serves as a National Park Service volunteer.
June 15, 2019

On June 15, 2019, the Isle of Wight Avengers, SCV Camp #14 met at Uzzell's Methodist Church cemetery to install 5 Confederate Iron Crosses of Honor led by Commander Ed Whitley. One of the deceased soldiers, James B. Porter, is the great uncle of Avengers member Buddy Jones of Smithfield. The Avengers were joined by SCV Camp #9, known as the 13th Mechanized Cavalry from Norfolk, led by Cdr. Mike Armistead. They installed 2 more Iron Crosses of soldiers who served in the 13th Cavalry from Isle of Wight County. Iron Crosses are used to respectfully mark the grave sites of Confederate soldiers. UDC member Marilyn Curtain led a short memorial service.

Cdr. Ed Whitley dug several holes today for the installation of the Iron Crosses. Brett Griffin
helped many people in this project.

Past Cdr. Tony Griffin did more than his share of grunt work!

Birthday Boys! Brett Griffin and Buddy Jones share the same birthday 50 years apart!

Marilyn Curtain (Recorder) and President Joan Jones of the U.D.C.
May 14, 2019
Cdr. Frank Earnest of the Norfolk County Grays Camp #1549 has served in so many National, Division, and local SCV offices that
it is impossible to list them all here. Tonight, Frank spoke to us about "Jews in the Confederacy" and their outstanding contributions.
Color Sergeant Brett Griffin was presented with a Division Meritorious Award, and 2 other certificates for his excellent work with the Avengers Camp.
Past Cdr. Tony Griffin also presented Cdr. Ed Whitley with a well deserved Division Meritorious Award.
Past Cdr. Keith Morris was pleasantly surprised with his Meritorious Award.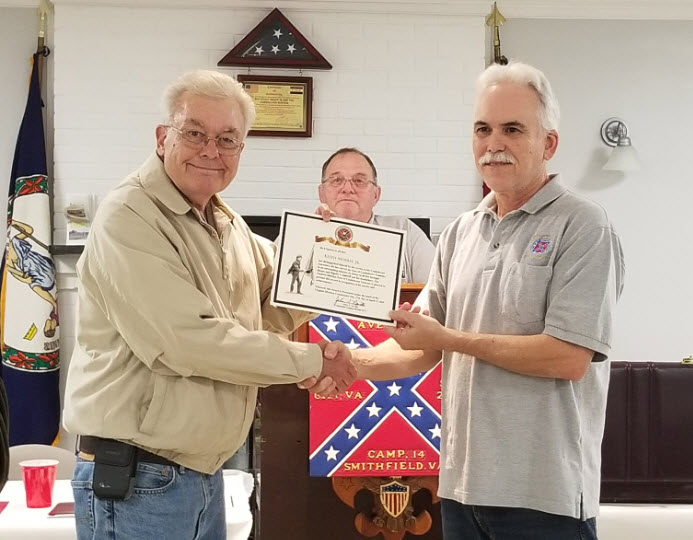 Color Sergeant Brett Griffin received an Outstanding Camp pennant for our Camp's flag.
Dale Nichols, a local author, spoke to the Camp on his latest book, "HURRAH for Georgia", the story of the 38th Georgia Volunteer Infantry Regiment.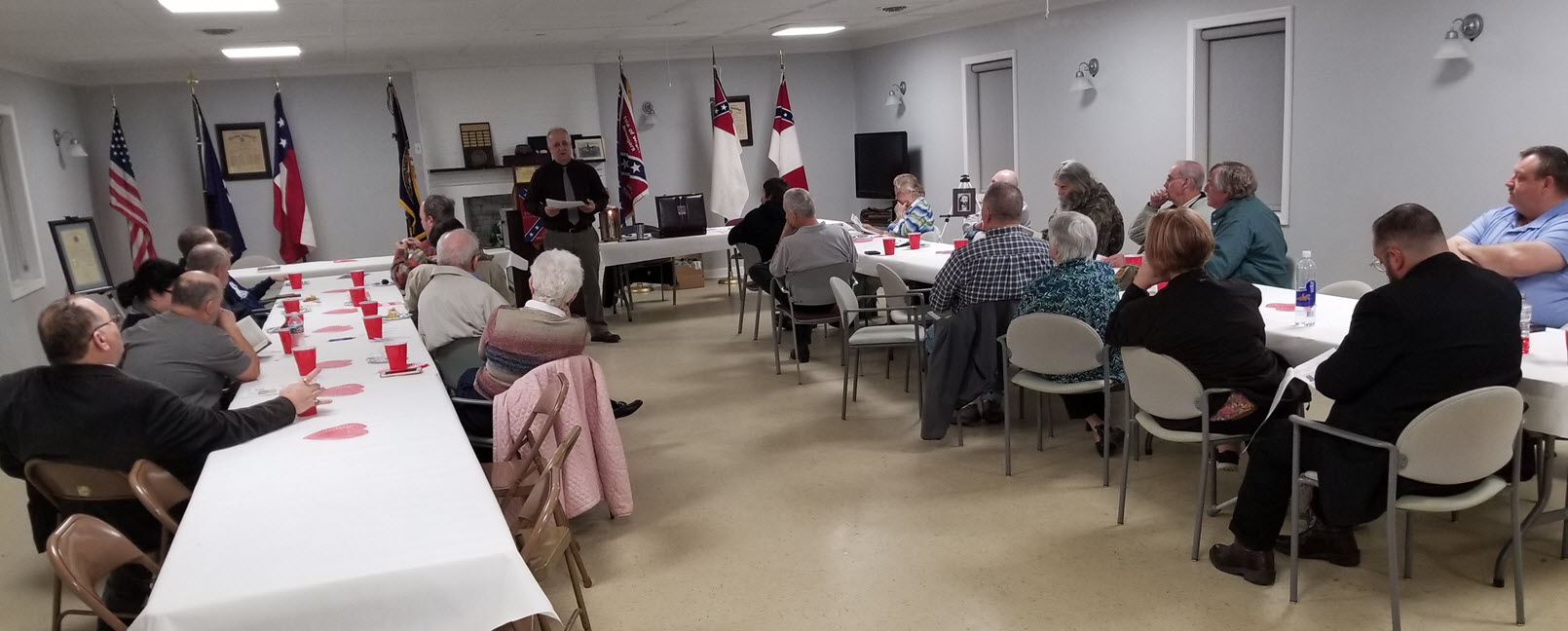 Dale Nichols has many ancestors who served in the War of Aggression including his GGG Grandfather who served in the 38th Georgia Volunteer Infantry.

Commander Ed Whitley spoke to the Camp's membership about the life and military career of Mills E. Britt. He enlisted in the 7th Bn., Co. F, 61st Virginia Infantry in 1861 at Beaver Dam, Isle of Wight.
Without such brave soldiers as Pvt. Britt, the Isle of Wight Avengers, SCV Camp would not exist! Cdr. Whitley asked past Commanders, Keith Morris and Tony Griffin to assist as he presented early pictures of
Mills Britt to REAL GRANDSONS compatriots Frank Hall and Earl Hall. Our Camp is honored to have such fine gentlemen in our Camp carrying on the legacy of their grandfather.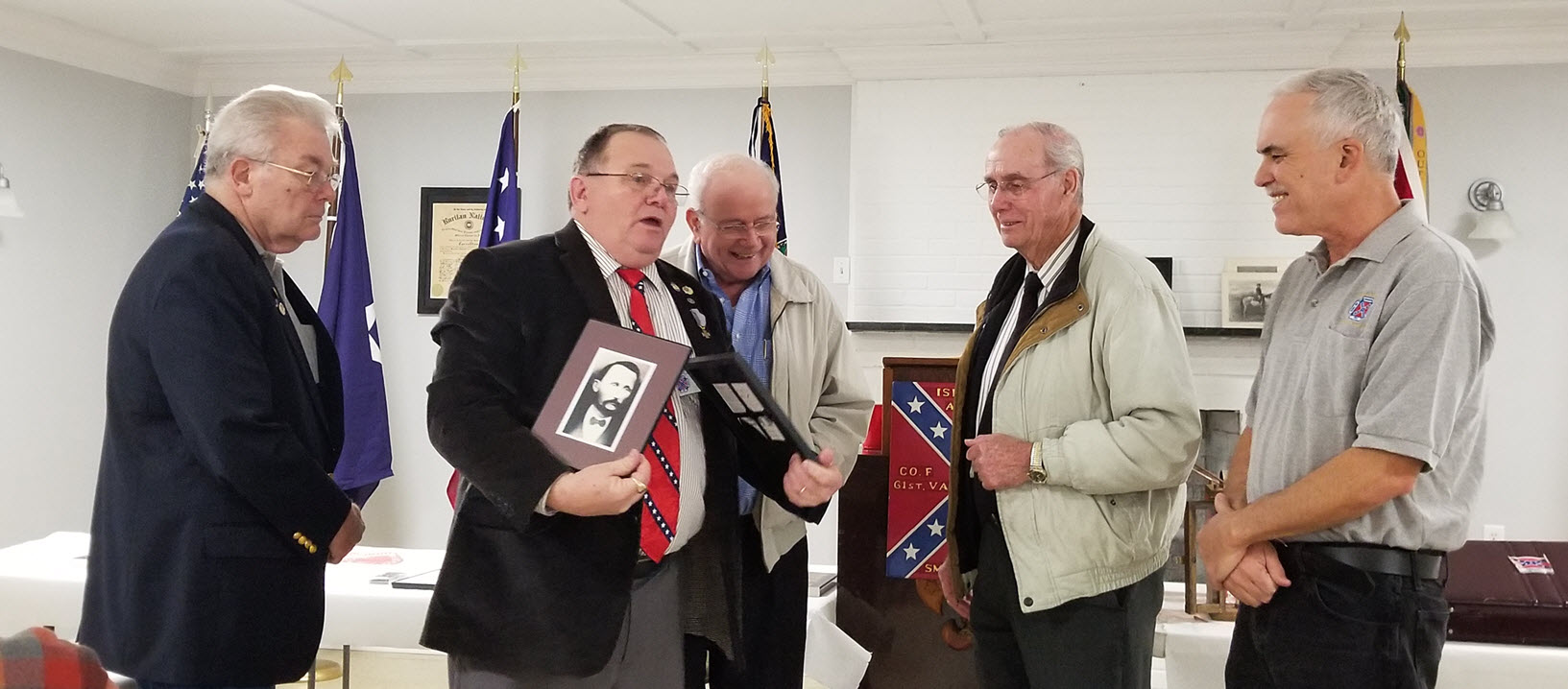 Cdr. Ed Whitley then presented Compatriots Frank & Earl Hall with National SCV Certificates to recognize them as REAL GRANDSONS.

Commander Ed Whitley was so happy and proud to present REAL GRANDSON medals to brothers Frank and Earl Hall!

The Sons of Confederate Veterans is all about honoring our ancestors. The Avengers Camp did exactly that this evening by remembering Private Mills Edward Britt and two of his grandsons!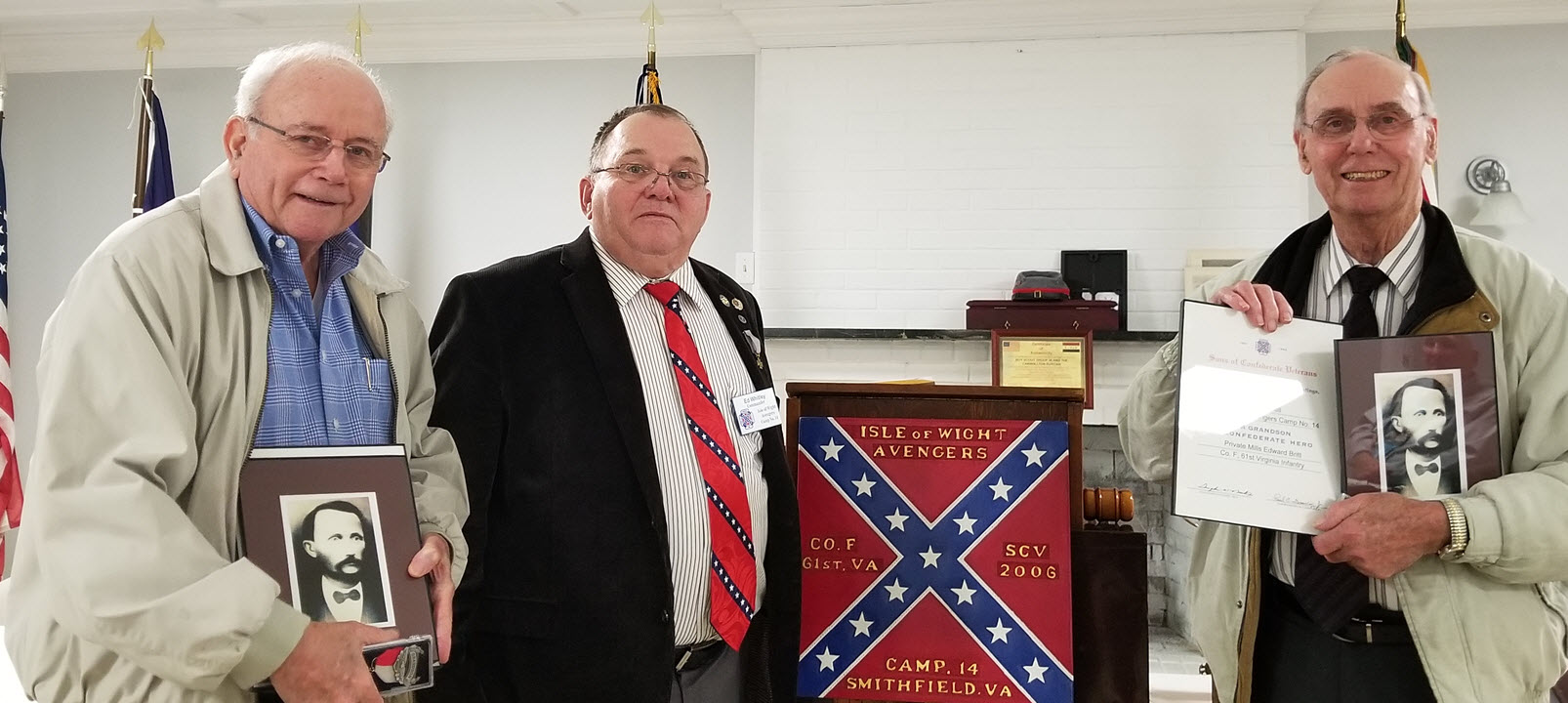 2nd Lt. Cdr. Richard Jenkins and his wife, Connie, were happy to announce their 37th wedding anniversary.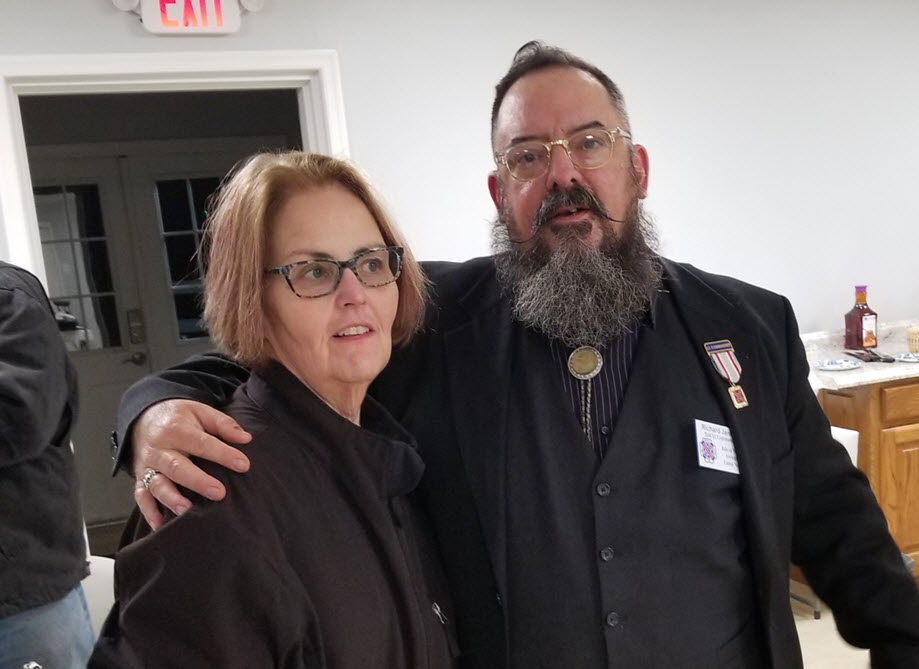 Reed Lundy and Matt Abbott visited the Avengers Camp. Welcome!
January 8, 2019: Ed Whitley's first meeting as Camp Commander.

2nd Lt. Cdr. Tommy Davis helped the Camp start off the New Year with a cake he brought to our monthly buffet.


Jeff Toalson, Past Cdr. of the James City Cavalry Camp #2095, was tonight's speaker. He told us of his journey of the last 15 years while edititing several books.
His latest is I Got Nuthin Strange To Rite consisting of letters to and from Confederate soldiers and their families. Cdr. Ed Whitley is showed greeting Jeff, who was also accompanied
by friends from the James City Camp--incoming Cdr. Jerry Thompson and Past Cdr. Ken Parsons.


Trent Butler was inducted this evening by Cdr. Ed Whitley and Lt. Cdr. Raymond Groves. Congratulations to Trent!