December 11, 2018: An Evening of Festivities, Feasting, Celebrations, Awards, and Inductions.

Susan Carraway was our Christmas speaker who gave a very interesting presentation by reading "A Confederate Christmas" by Rose W. Frye.


Commander Tony Griffin presented Brett Griffin (left) and Ed Whitley (right) with certificates of Meritorious Service and medals!


2nd Lt. Cdr. Tommy Davis graciously donated and presented Poinsettias to Myrna Sharon and Joan Jones for all the support they provide the Avengers Camp throughout the year.
Tommy also donated a Norfolk Pine for our monthly door prize.


1st Brigade Commander Tommy Thomas was nominated for the position of Camp Historian, then elected by the membership, and inducted by Camp Cdr. Tony Griffin. The Brigade Commander
then called upon the Camp's new slate of officers to be inducted for the new term. From left to right--Richard Jenkins, 2nd Lt. Cdr.; Brett Griffin, Color Sgt.; Tommy Davis, 2nd Lt. Cdr.;
Tony Griffin, Adjutant, Clarence E. "Ed" Whitley, Commander; Raymond Groves, 1st Lt. Cdr.; Tom Conley, Chaplain; and David Cockes, Librarian.
Congratulations to one and all!


Tony Griffin officially passed the Camp's gavel to Ed Whitley after a full decade of service to the Avengers as our Commander!


Keith Morris had the distinct honor of presenting Tony with a plaque commenorating Tony's 10 years of service.
It was impossible to list the Commander's many achievements.


2nd Lt. Cdr. Tommy Davis surprised the entire Camp by presenting a most generous check to the outgoing Commander to be applied to the Camp's Building Fund.
The gift is very much needed, and was gratefully accepted. Tommy's spirit is so contagious!


Ed Whitley addressed the membership to thank them for electing him Camp Commander. He commented on Tony's long tenure, and his example to follow.
For the first time, Commander Whitley closed a Camp meeting!
October 2, 2018
Compatriot Lindsey Jones gave a most interesting slide show presentation about Cotton Clads and Rams which were ships protected in a unique way that most of us had never heard of.
As he talked about particular ships, he showed historical pictures of each of them.

Commander Tony Griffin presented Chaplain Tom Conley with his Virginia Division Life Membership Certificate.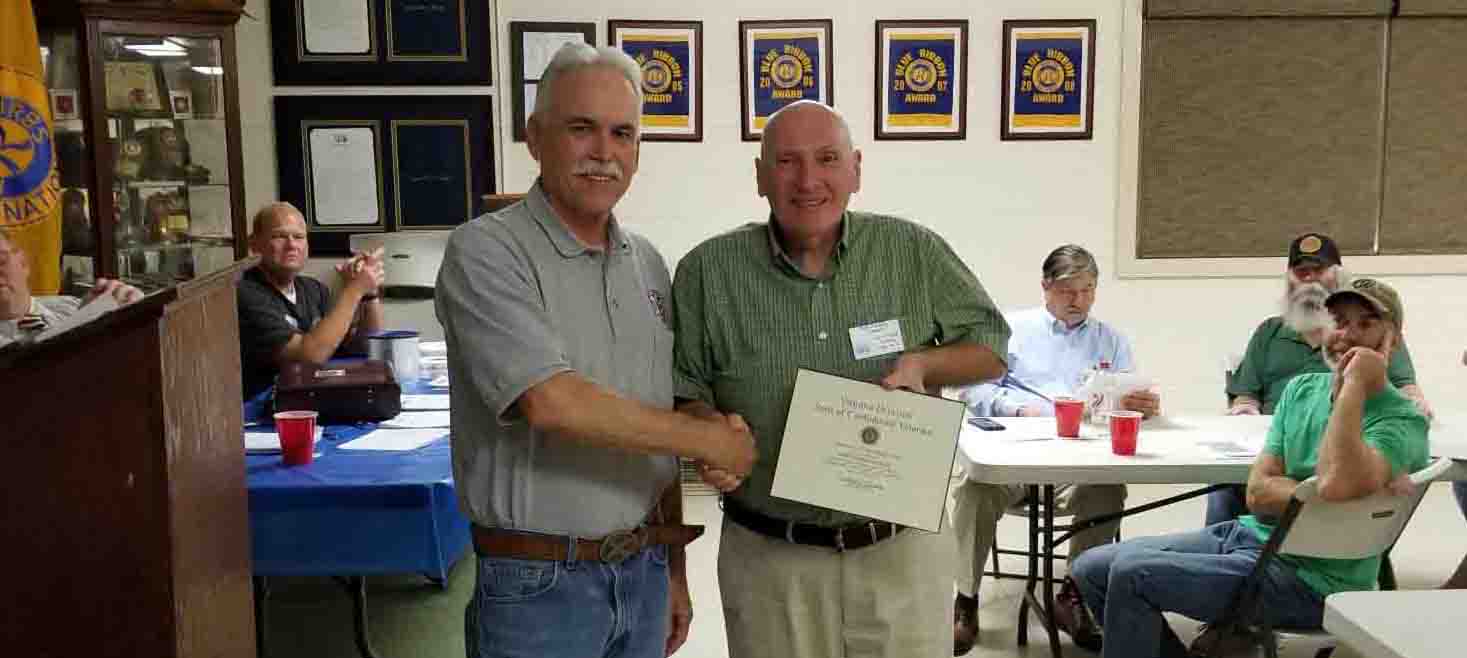 Commander Griffin also presented Carl Cuthrell with his Avengers Camp membership Certificate. Carl is a past Division Adjutant.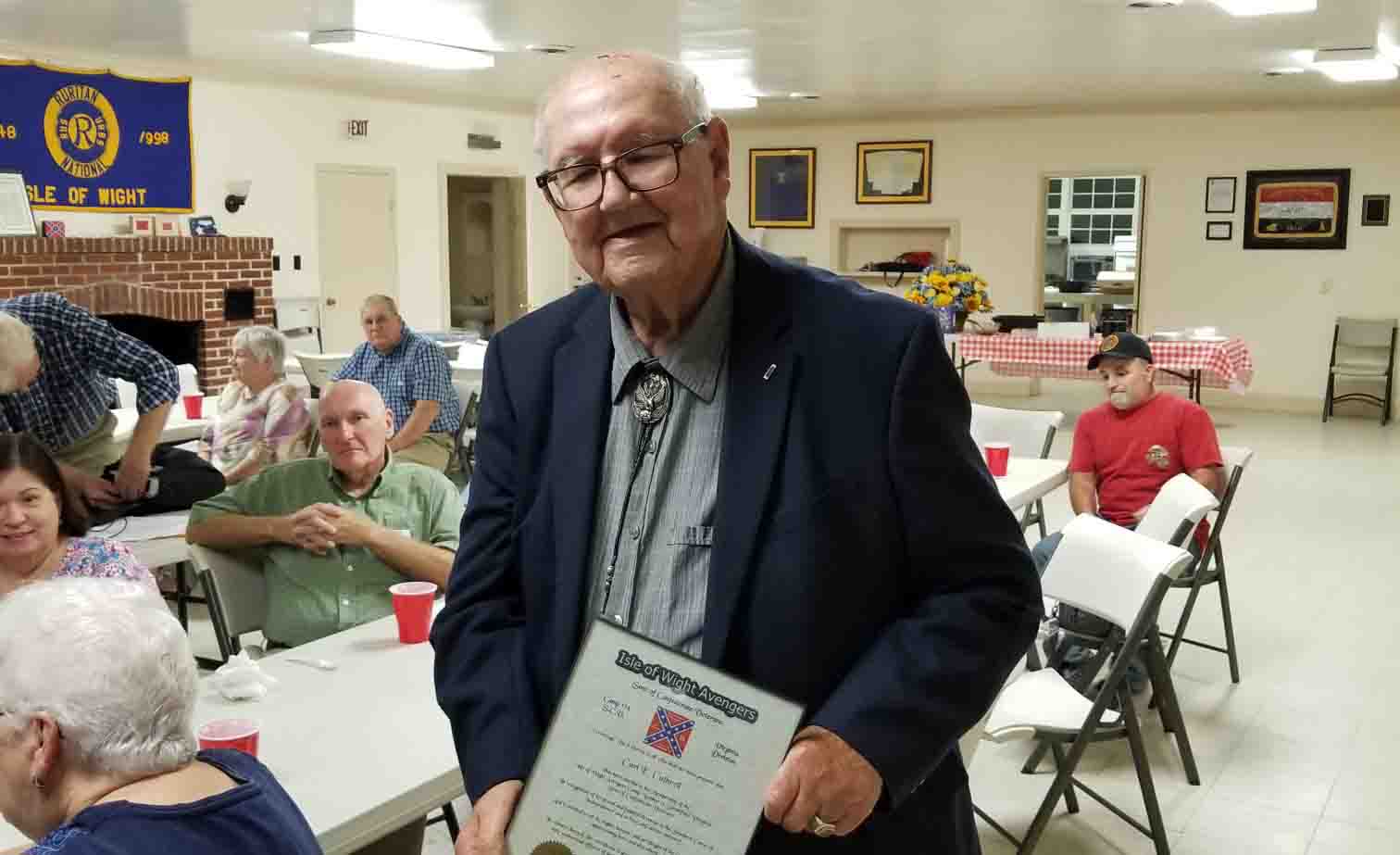 Past Commander Keith Morris paid tribute to Past Commander in Chief Denne Sweeney (2004-2006) who passed away earlier this year. Denne's example of never refusing
a higher office urged all compatriots to work for their camps to the best of their abilities. He even appointed Keith as the Chairman of the National Recruiting and Retention Committee.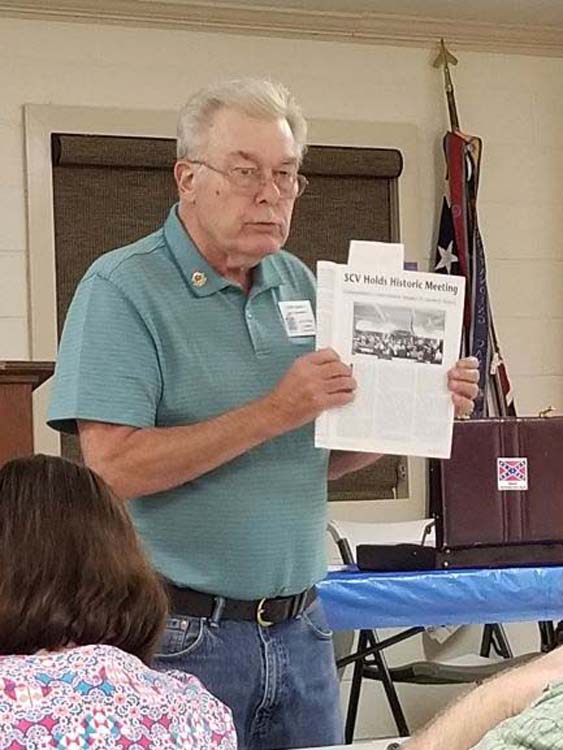 May 1, 2018

William J. "Bill" Graham, III was our guest speaker this evening. Bill is the Virginia Division Treasurer. He dressed in the role of his ancestor, Dr. Van Lear, and spoke in the 1st person about him.
Commander Graham then presented a slide show about "Johnson's Island Prison Camp for Confederates" and received a well deserved round of applause.

The Avengers Camp currently has 3 active members serving on the Virginia Division Execution Council (DEC). With the Division Treasurer attending our meeting tonight,
there were 4 DEC members present--almost enough for a quorem!
From left to right are 1st Brigade Commander Tommy Thomas, Treasurer Bill Graham, past Division Commander Tony Griffin who will hold a seat
for the next 4 years, and Quartermaster Keith Morris.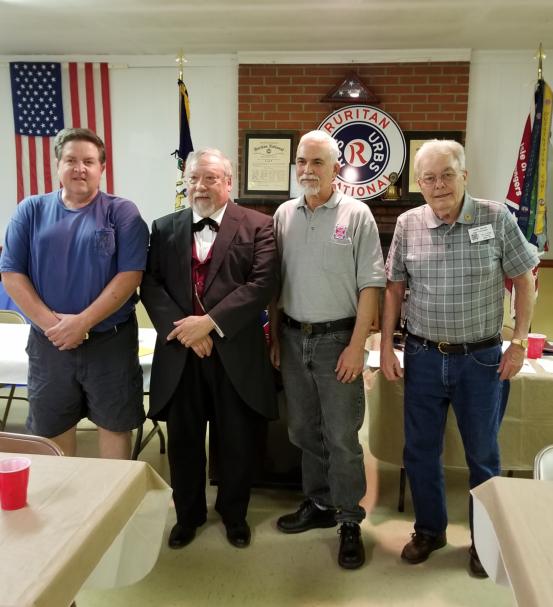 Commander Tony Griffin presented Division Certificates to Camp members.

Tommy Thomas received a Guardianship Award.

Brett Griffin received an Honor Guard Award.

Keith Morris received a Distinguished Service Award.