| | | |
| --- | --- | --- |
| | First Brigade ~ Virginia Division ~ Department of the Army of Northern Virginia | |
The Avengers Camp is now offering its 7th annual scholarships
for June, 2018 graduating high school seniors.
For full details, please view SCHOLARSHIPS
The Isle of Wight Avengers is a proud Camp in the Sons of Confederate Veterans.



We meet on the 1st Tuesday of
each month at 6:30 at the Carrollton Ruritan Club.
See our Calendar below.



"He who forgets his ancestors is unworthy
to be remembered by his descendants!"

Our purpose is to fulfill the
Charge to the Sons of Confederate Veterans:

"To you, Sons of Confederate Veterans, we submit the vindication of the Cause for which we fought;
to your strength will be given the defense of the Confederate soldier's good name, the guardianship
of his history, the emulation of his virtues, the perpetuation of those principles he loved
and which made him glorious and which you also cherish. Remember, it is your duty to see that
the true history of the South is presented to future generations."

Lt. General Stephen Dill Lee, Commander General
United Confederate Veterans
New Orleans, Louisiana 1906

Confederate Monument ~ IOW Courthouse
March 6, 2018
Mrs. Katheryne Hamilton spoke to the Camp about the "Maroons of the Dismal Swamp" where people lived from the 1600s until after the War. .
February 6, 2018
Commander Tony Griffin used our meeting time to conduct a business meeting. He discussed all current issues, and answered all quesions, concerns, and suggestions from the Camp membership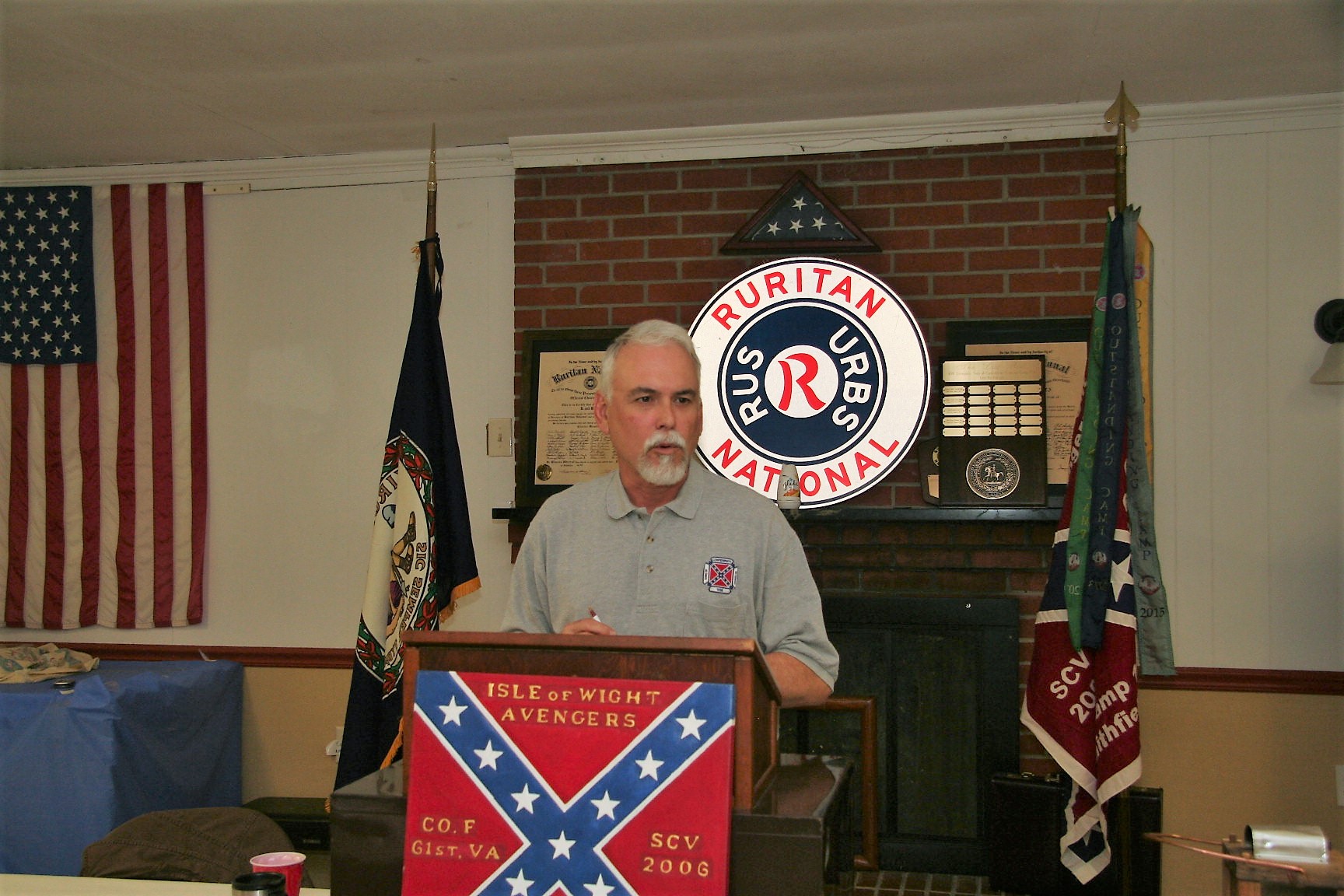 There was no Camp meeting on January 2, 2018 because of the extreme cold and no heat in the club house.
December 8, 2017
Mrs. Billie Earnest, famous for her UDC and Confederate activities, gave a presentation to us about Christmas from the perspective
of the soldiers from 1861 to 1865.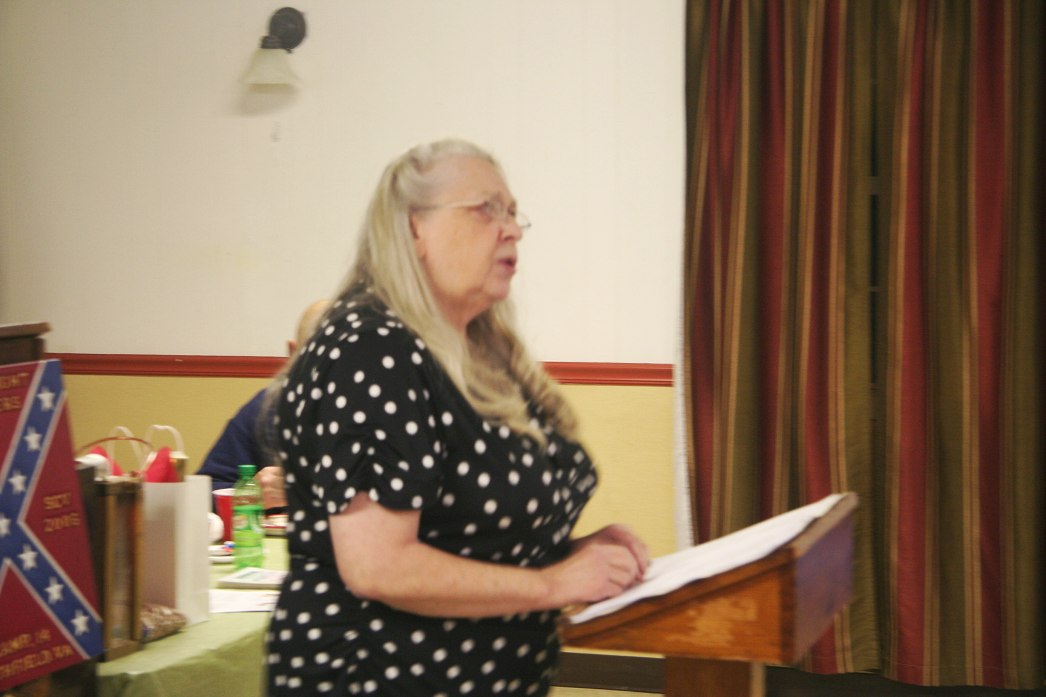 November 14, 2017
Retired Park Ranger, Randy Watkins spoke to the Avenger Camp about General John Bankhead Magruder.
Commander Tony Griffin presented John Brendan Cleary's son, Hunter Brendan Cleary, a Last Roll certificate in honor of his father who recently passed away.
Past 1st Brigade Commander Tommy Thomas brought two friends to tonight's meeting: Kimmie Harrison and Roni Swiderski.
October 3, 2017

Susan Carraway, President of the Suffolk Chapter of the UDC, spoke to the Avengers about
Sarah Rice Pryor
who was married to Confederate
Gen. Roger Pryor. After the War, the couple moved to NYC where she wrote 2 books arguing that TWBTS not not fought over the preservation of slavery.
Past Commander Keith Morris presented a "Last Roll" plaque to honor and remember those Avengers who have passed on. May they never be forgotten.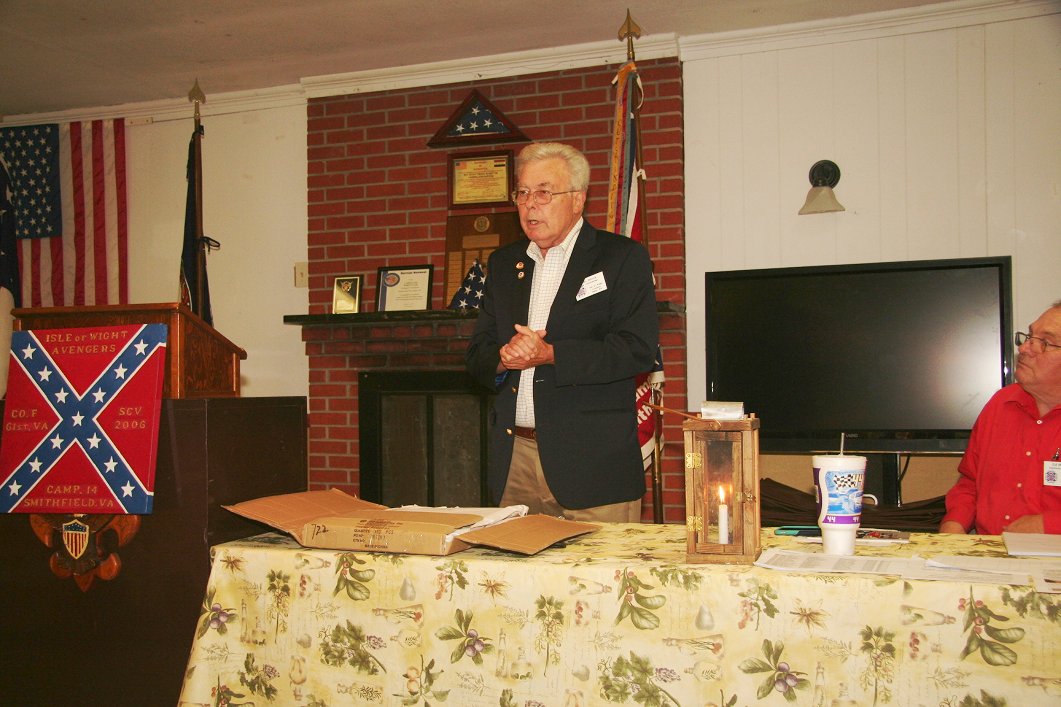 Myrna Sharon and Sandy Cleary were present to view the plaque.

Commander Griffin received the plaque on behalf of the Camp.
During the business session of the meeting, Commander Griffin spoke about the Confederate monuments in Virginia and upcoming SCV events.
Pictures from earlier in 2017can be found at http://www.iowavengers.com/2017
or go to PICTURES in the gray Navigation Bar (at the top of this page) and choose any year you wish to review.
This post card is by courtesy of Commander John A. Sharrett, III of the Stonewall Camp #380.
The post mark on the back is dated June 21, 1907.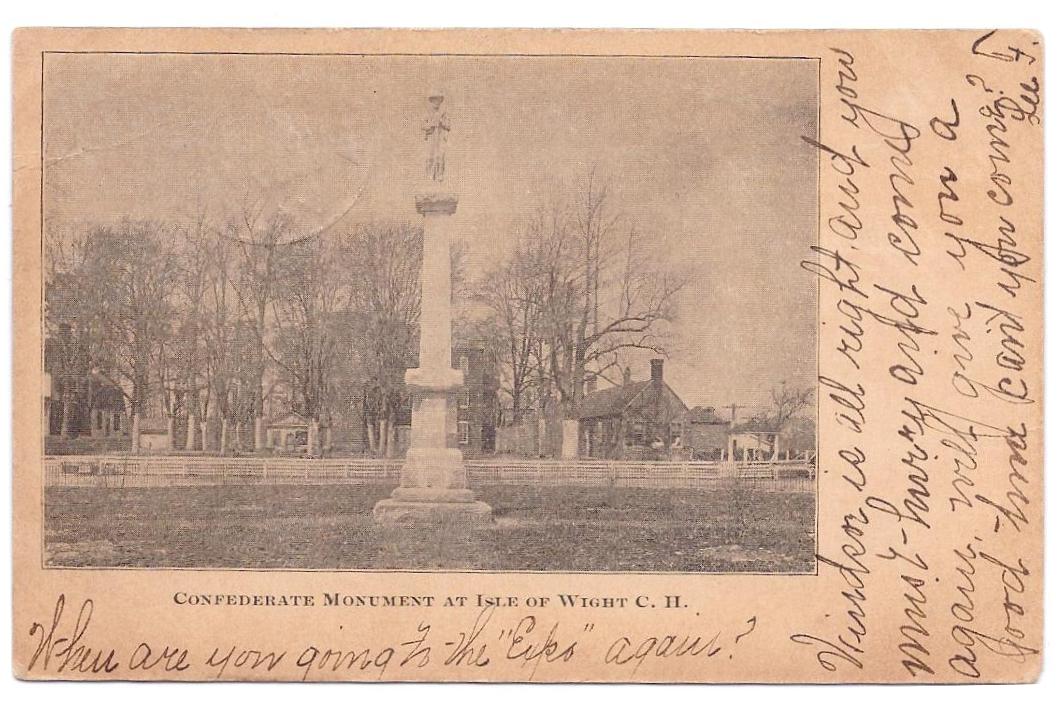 Current Virginia Division Officers http://scvva.org/





New Virginia Division officers for the 2016 - 2018 term
BRIGADE COMMANDERS
Commander - Tony Griffin
1st Brigade -
1st Lt. Cmdr. - Edwin Ray
2nd Brigade -
2nd Lt. Cmdr. - Johnny Neville
3rd Brigade -
Inspector - Bob Shirley, Jr.
4th Brigade -
Adjutant - Greg Mays
5th Brigade -
Treasurer - Bill Graham
6th Brigade -
Quartermaster - Ron Moore
7th Brigade -
Chaplain - Fred Chiesa
Archivist - Russ Edwards
Heritage Defense Coordinator - B. Frank Earnest
Past Division Commander - L. Tracy Clary
Past Division Commander - J. Michael Pullen
Avengers Camp Calendar of Future Events
Our monthly meetings are usually on the 1st Tuesday of each month, but meeting dates may change due to holidays, extreme weather conditions, or if the club house is being used as a polling place in November. We also do not meet in July or August because so many of our members like to take summer vacations.

Our next meeting is scheduled for Tuesday, April 3, 2018
at the Carrollton Ruritan club house.

The Virginia Division Convention is scheduled for April 21, 2018 in Roanoke.

The Virginia Division web site is now at https://www.scvvirginia.org/


All Avengers are encouraged to subscribe to:

SCV Telegraph mailing list
http://www.scv.org/services/maillistSubscription.php

For a more complete listing of events in Isle of Wight County, see:
http://www.smithfield-virginia.com:80/events.html

SALUTE TO THE FLAG OF VIRGINIA:



I salute the Flag of Virginia with reverence
and patriotic devotion to the "Mother of
States and Statesmen" which it represents -
the "Old Dominion" where Liberty and
Independence were born.
-- Written by Mrs. Cassye Gravely, UDC

SALUTE TO THE CONFEDERATE FLAG:





I salute the Confederate flag with affection,
reverence and undying devotion to the
cause for which it stands. Amen.

COMMANDERS of the ISLE OF WIGHT AVENGERS CAMP #14:

SERVED FROM:

UNTIL:

Anthony M. Griffin
December 3, 2008
present
M. Keith Morris, Jr.
September 27, 2006
December 2, 2008

Site created on Sept. 1, 2006