| | | |
| --- | --- | --- |
| | First Brigade ~ Virginia Division ~ Department of the Army of Northern Virginia | |
The Isle of Wight Avengers is a proud Camp in the Sons of Confederate Veterans.

We meet on the 1st Tuesday of
each month at 6:30 at the Carrollton Ruritan Club.



"He who forgets his ancestors is unworthy
to be remembered by his descendants!"

Our purpose is to fulfill the
Charge to the Sons of Confederate Veterans:

"To you, Sons of Confederate Veterans, we submit the vindication of the Cause for which we fought;
to your strength will be given the defense of the Confederate soldier's good name, the guardianship
of his history, the emulation of his virtues, the perpetuation of those principles he loved
and which made him glorious and which you also cherish. Remember, it is your duty to see that
the true history of the South is presented to future generations."

Lt. General Stephen Dill Lee, Commander General
United Confederate Veterans
New Orleans, Louisiana 1906



For information about joining, please call

Commander Tony Griffin at 357-9238
or
Adjutant Ed Whitley at 870-8893

Confederate Monument ~ IOW Courthouse
This post card is by courtesy of Commander John A. Sharrett, III of the Stonewall Camp #380.
The post mark on the back is dated June 21, 1907.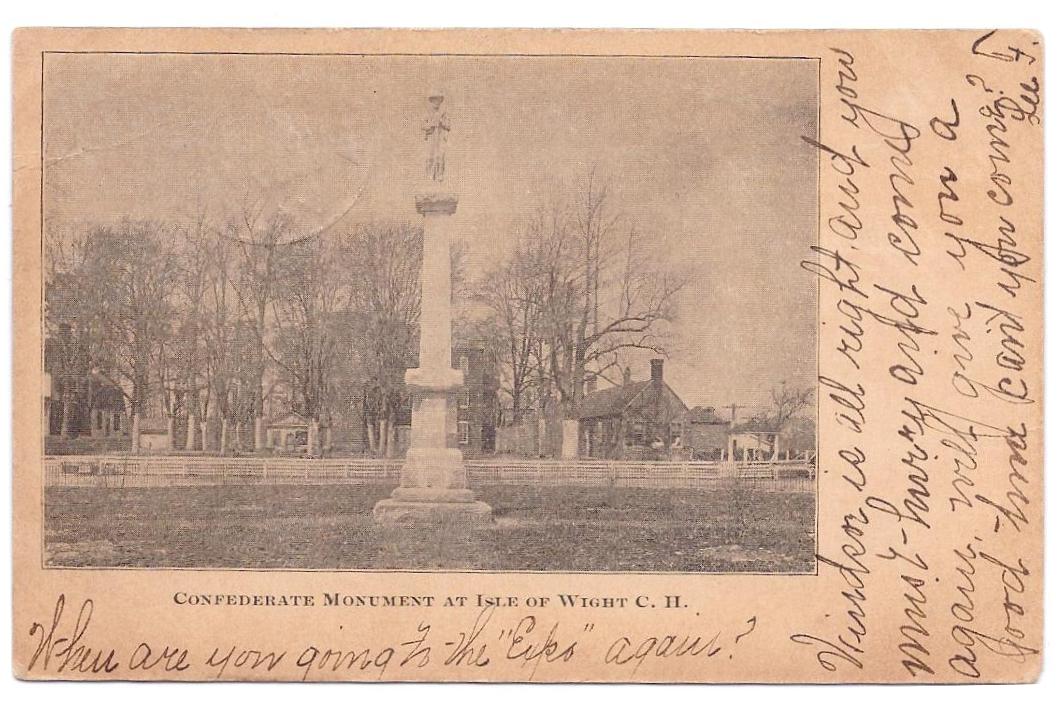 ~~~S C H O L A R S H I P S~~~
We have already raised $1,000 for the 2015 graduating seniors and are pleased to announce it in the Smithfield Times.
During our October 7, 2014 meeting, the Avengers voted to continue our scholarship program for the 2016 graduating seniors!
To read the letter mailed to the school Guidance Counselors in Isle of Wight County, CLICK HERE
This letter explains the procedure for applying for the Avengers Camp's scholarships.

Teresa Roane was our very special guest speaker on May 5, 2015. She is the former Archivist of the Museum of the Confederacy, and is now the
Librarian and Archivist for the United Daughters of the Confederacy. Her slide presentation was about minorities who served the Confederacy.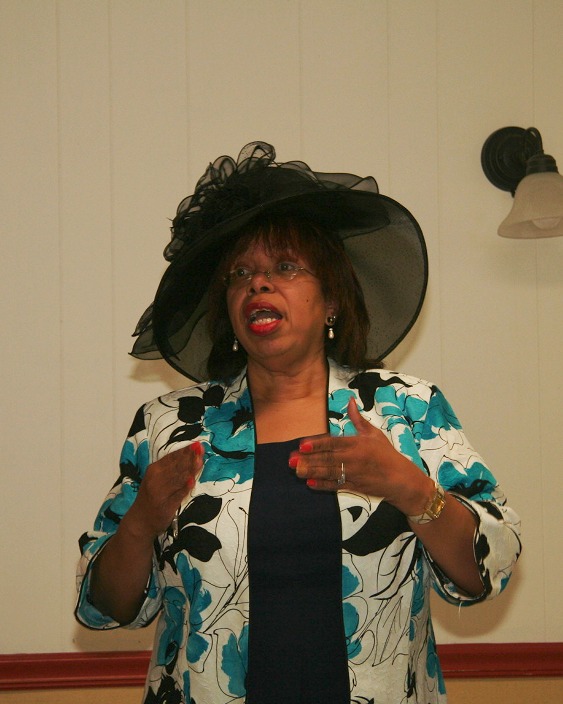 Commander Tony Griffin presented Dan Lewandowski with his membership certificate in the Avengers Camp on May 5, 2015.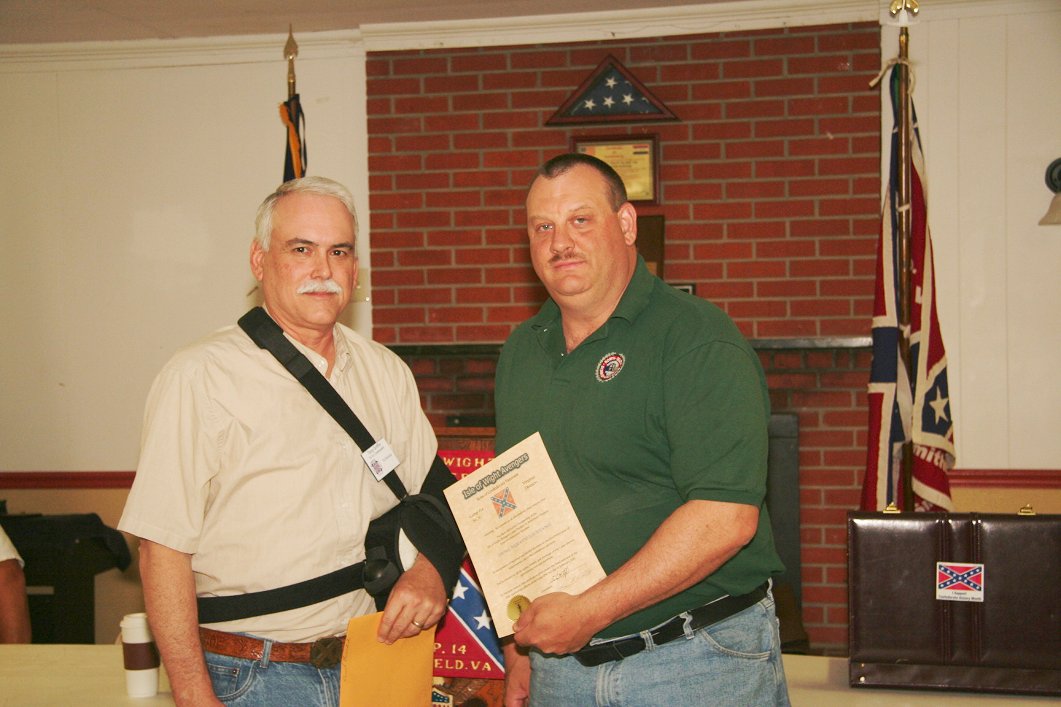 April 7, 2015: Commander Tony Griffin listened attentively as he fielded many questions and suggestions from the Avengers membership.
Our guest speaker couldn't make it to the meeting, so Cdr. Griffin used the opportunity to conduct an in-depth business meeting.
A lot of issues were brought up, discussed, and even voted on.

Also on April 7, 2015, Cdr. Griffin presented Tony Harvey with his induction certificates.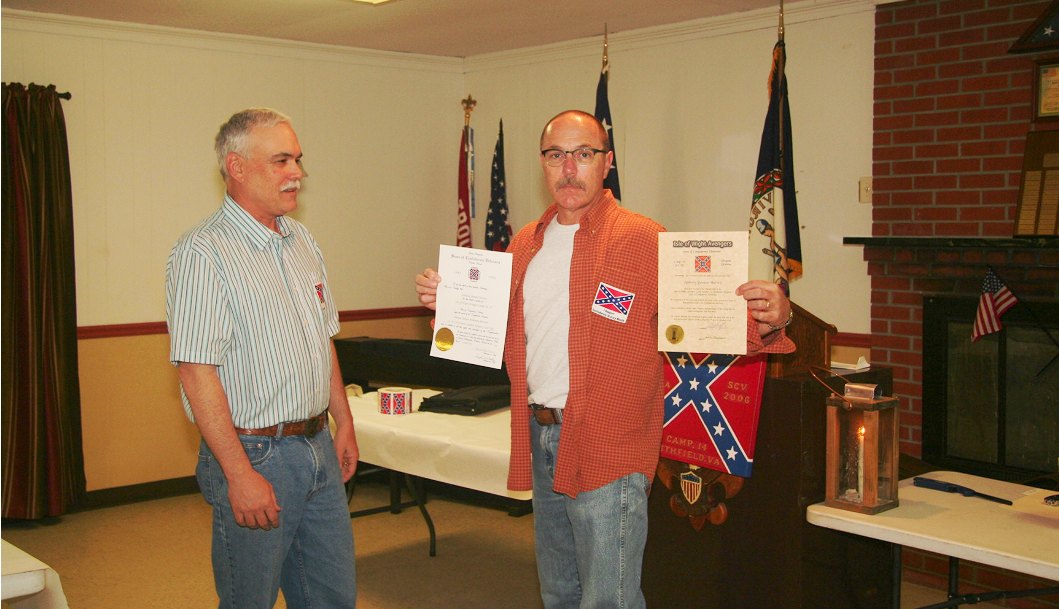 James Weir (L) attended his first Avengers meeting on April 7, 2015. He was the guest of Compatriot John Abbott.
Current Virginia Division Officers http://scvva.org/





New Virginia Division officers for the 2014 - 2016 term
BRIGADE COMMANDERS
Commander - L. Tracy Clary
1st Brigade - Tommy Thomas
1st Lt. Cmdr. - Tony Griffin
2nd Brigade - Les Updike
2nd Lt. Cmdr. - Everette Ellis
3rd Brigade - Mike Henderson
Inspector - Tim Hamilton
4th Brigade - Bill Graham
Adjutant - Ted Crockett
5th Brigade - Jeff Smith
Treasurer - Gerry Culver
6th Brigade - Lars C. Dorton
Quartermaster - Fred Chiesa
7th Brigade - Frank Harvey
Chaplain - Ronald T. Graves
Archivist - J. Edwin Ray
Heritage Defense Coordinator - Ken Parsons
Past Division Commander - J. Michael Pullen
Past Division Commander - Michael A. Rose
Avengers Camp Calendar of Future Events
Our monthly meetings are usually on the 1st Tuesday of each month, but meeting dates may change due to holidays, extreme weather conditions, or if the club house is being used as a polling place in November.

Our next meeting is scheduled for Tuesday, June 2, 2015
at the Carrollton Ruritan Club House.


All Avengers are encouraged to subscribe to VAcourier -- Virginia Division SCV Communication List at
http://scvva.org/mailman/listinfo/vacourier_scvva.org so that you can keep up with the latest news!
For a more complete listing of events in Isle of Wight County, see:
http://www.smithfield-virginia.com:80/events.html

SALUTE TO THE FLAG OF VIRGINIA:



I salute the Flag of Virginia with reverence
and patriotic devotion to the "Mother of
States and Statesmen" which it represents -
the "Old Dominion" where Liberty and
Independence were born.
-- Written by Mrs. Cassye Gravely, UDC

SALUTE TO THE CONFEDERATE FLAG:





I salute the Confederate flag with affection,
reverence and undying devotion to the
cause for which it stands. Amen.
WORDS FOR THOUGHT!
"The sole object of this war is to restore the Union. Should I become convinced it has any other object, or that the Government designs its soldiers to execute
the wishes of the Abolitionists, I pledge you my honor as a man and a soldier I would resign my commission and carry my sword to the other side."
~General Ulysses S. Grant, USA, in a letter to the Chicago Times, 1862


"The democracy will cease to exist when you take it away from those who are willing to work and give it to those who would not."
~ Thomas Jefferson


"The real problem in America is not so much what people don't know but, rather, what they think they know that just ain't so."
~ Will Rogers


"If you bring these leaders to trial, it will condemn the North, for by the Constitution, seccession is not rebellion.
His [Jefferson Davis] capture was a mistake. His trial will be a greater one. We cannot convict him of treason."
~Salmon P. Chase, Chief Justice of the US Supreme Court, 1867


"I have no purpose, directly or indirectly, to interfere with the institution of slavery in the States where it exists.
I believe I have no lawful right to do so, and I have no inclination to do so."
~ Abraham Lincoln quote from his first inaugural address on March 4, 1861


"A nation which does not remember what it was yesterday does not know where it is today." /
"The education of a man is never completed until he dies."
~ Robert E. Lee


"I am a little uneasy about the abolishment of slavery in this District [of Columbia]..."
~Abraham Lincoln. March 24, 1862 in a letter to Horace Greeley, New York Tribune editor.


"Amend the Constitution to say it should never be altered to interfere with slavery."
~Abraham Lincoln, December 24, 1860, presenting his stand on slavery to the Senate


"Those Rebel bastards couldn't hit an elephant at this dis..."
~ Last words of Union General John Sedgewick
at Spotsylvania Court House May, 1864


COMMANDERS of the ISLE OF WIGHT AVENGERS CAMP #14:

SERVED FROM:

UNTIL:

Anthony M. Griffin
December 3, 2008
present
M. Keith Morris, Jr.
September 27, 2006
December 2, 2008

Site created on Sept. 1, 2006